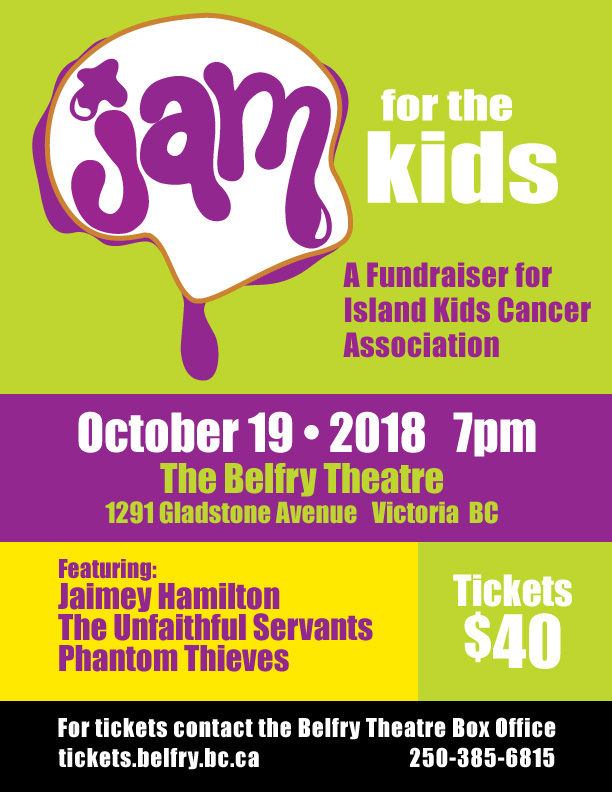 Jam for the Kids
"Jam for the Kids" is a concert fundraiser supporting the Island Kids Cancer Association. The event has been an annual fixture since 2011 and is back by popular demand!
What We Need
Our families struggle with not only the emotional but also the financial challenges of having a child diagnosed with cancer. Funds raised at "Jam for the Kids" will be used to fund family financial aid (such as meal cards, gas cards, and funding for specialized feeding supplies not covered by the government), mental health support services for families (including bereaved families), as well as imminent clinic needs (such as equipment, education, play therapy resources, and adolescent and young adult group events).
What You Can Do To Help
On Friday, October 19, 2018 "Jam for the Kids" is being held at the Belfry Theatre. We are in need of donated prizes for a silent auction that will be held at the concert. Please do not hesitate to contact me at the e-mail below if you would like more information about the event. Tickets can be purchased through the Belfry Theatre box office at 250-385-6815 or on-line at https://tickets.belfry.bc.ca, starting on September 4.
Monetary donations would also be greatly appreciated. If you wish to donate, cheques can be made payable to Island Kids Cancer Association (please write "Jam for the Kids" in the memo line). Charitable tax receipts will be provided. Please e-mail me directly if you would like to make a donation.
Please seriously consider making a contribution to this most worthwhile cause.
We thank you in advance for your support.
Sincerely,
Dr. Ewa Lunaczek-Motyka
Jam for the Kids Event Organizer &
Pediatric Hematologist/Oncologist
Victoria General Hospital
1 Hospital Way
Victoria, B.C., V8Z 6R5